Who is Juliana Cherera?
Juliana Cherera is the Independent Electoral and Boundaries Commission (IEBC) vice chair. She is also a mother, wife, and a Kenyan citizen.
Early Life
There are little to no details regarding Cherera's early life. However, some unconfirmed sources reveal that she was born in Central part of Kenya.
Educational Background
In her humble beginnings, Cherera was once an ECDE teacher as she had only attained low level of education. She later advanced her education by joining Kenyatta University where she earned a degree in Bachelor of Arts degree in Education, specializing in Geography and Kiswahili.
Cherera also enrolled in KEMU where she attained a master of Education, Leadership, and Educational Management.
Career History
Cherera prides in having 18 years of experience within public sector of education and management. Juliana also operated as the CEO of the strategic Delivery Unit at the Mombasa County government. Before joining IEBC, Cherea also served in the following positions. Member of the Mombasa County Emergency Household Relief and Nutritional Support Project Coordination Committee, Secretary to the Mombasa County Economic Recovery and Legacy Strategy, a Member of the Kenya Devolution Support Program Committee.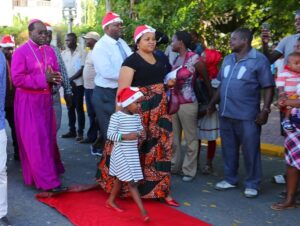 IEBC Vice Chair
Juliana Cherera became the IEBC vice chair on 14th september, 2021. IEBC chairperson Wafula Chebukati issued a public statement on this day terming Cherera as his vice chair. The decision to choose her was reached after an unanimous agreement amongst IEBC officials.
Part of the official statement said, "The commission takes this opportunity to congratulate Commissioner Cherera on her appointment. The commission would like to assure all stakeholders and the public in general of its commitment to delivering a free, fair and credible 2022 General Elections that meets the democratic aspirations of the people of Kenya,"
Cherera was filing a vice chair gap that had been existing since 2018. Upon her election, she was trusted by the independent body to ensure free and fair election especially in 2022.
Her Breaking News
Cherera, alongside other 3 IEBC officials made headlines after rejecting the 2022 presidential election results. The 54-years-old distanced herself from the presidential results terming the operations surrounding them opaque. She and other three IEBC commissioners issued a statement.
On 15th August, Minutes before Chebukati declared William Ruto the presidential elect, Cherera distanced herself from the results.
"We have done the 2022 general election in the most efficient manner. We have ensured that all the challenges have been contained." "We have made sure that we have improved the standards and and we say as a fact as commissioners we have a done a good job." Said Cherera.
"But some things need to be put out there as you can see the four of us are here and not at Bomas where the results is going to be announced because of the opaque nature of how this phase has been handled. We, therefore, cannot take ownership of this result that is going to be announced." Added Cherera.
Her later claims are that the total number of % votes exceeded 100%. She added that the votes were 100.1%. Cherera showed that the 0.01% was equals to 142, 000 and that it would make difference in the earlier announced results. https://www.youtube.com/watch?v=Ypeh5nXsSaM
Her Net Worth
The former teacher has a net worth of approximately 16.6 million. She also owns several property including 11 acres of land in Kwale, 1.5 acres of land in Kilifi, one acre of land in Makinnon Market and a two-acre tea farm in Meru South.
Cherera also owns a 3 million home in Mtwapa, Mwalimu Sacco shares worth 328, 000, and 2.4 million worth of vehicles. She also owns 10, 000 shares at Telco company.
Related:
http://www.biography.co.ke/railas-last-card-to-push-for-a-runoff/